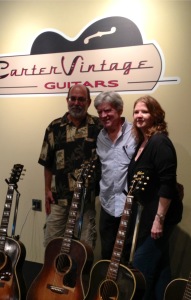 What a beautiful vision: Friday night in Nashville, Tennessee, surrounded by great musicians and stunning instruments, including a bevy of beautiful Banner Gibsons, and hosted by Walter and Christie Carter, two of the world's nicest people who also happen to be two of the world's leading guitar experts. After spending the past couple of decades working in one of Nashville's best-known vintage guitar shops, Walter and Christie have recently opened their own shop.  And it is spectacular!  Spacious, comfortable, and filled with friendly staff and drool-worthy guitars, mandolins, banjos, ukes, amplifiers, and related products.
I was thinking seriously of yelling "fire" and during the ensuing chaos grabbing the Lloyd Loar signed F-5 mandolin and H-5 mandola and heading for the door when Carter Vintage employee and picker extraordinaire Lucas White grabbed one of those Banner Gibsons and, joined by his friends in the band New Blue, launched into some rollicking newgrass.  Mesmerized by the music, the gorgeous shop, and Walter and Christie's hospitality, I momentarily forgot about my planned life of crime.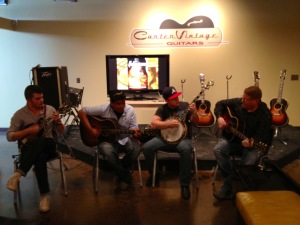 Before my thoughts could return to larceny, Walter Carter introduced me and I did my Kalamazoo Gals song and dance, regaling the appreciative crowd with the tale of my personal journey of locating and interviewing the Gals and then weaving a book around their stories.
It's always rewarding to see the Gals' story resonate with an audience.  It was even more rewarding to see the story take hold in Music City in the presence of the cognoscenti of the fretted instrument world.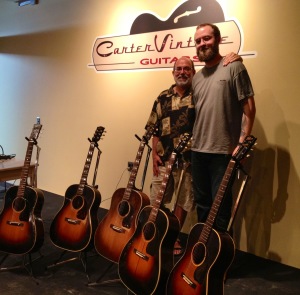 Thank you Walter, Christie, Josh Alexander, Lucas White and all of the staff and attendees at Kalamazoo Gals night at Carter Vintage Guitars.
Oh, and do yourself a favor.  The next time you're in Nashville stop in to say "hi" to Walter and Christie. And do me a favor, too, by checking to see whether pair of Loar-signed instruments are still in residence.