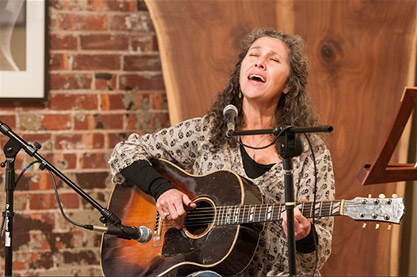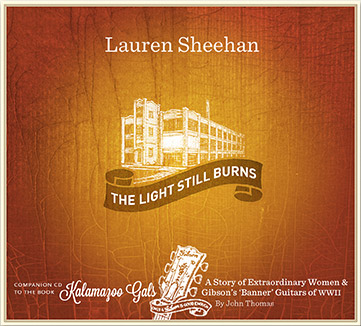 Twelve women, twelve songs, twelve guitars. That was my concept. The stories of a dozen Kalamazoo Gals would not be completed without adding the voices they produced through the Banner Gibsons. So I assembled my own meager collection and put the word out to the collectors that I'd be organizing a recording project for a CD to accompany this book. Next I convinced my friend Eric Dawson Tate to serve as engineer and co-producer of this album. Fresh off engineering work for the score to the Hollywood blockbuster, "Looper," I caught Eric at the beginning of what is certain to be a very steep career arc. Lauren Sheehan's contribution of "technique, style, grit, and soul," both as a vocalist and guitar player made her the perfect artist for this project. Grammy-winning engineer, Charlie Pilzer did the mastering.
The guitars-we ended up using fifteen two, on a duet and three on a medley-feature every variant and wood combination that Gibson employed while striving to produce instruments under the challenges of wartime circumstances.
The CD takes its name from a Gibson advertisement that appeared in the October, 1943 issue of Metronome Magazine.
We offer these songs in honor of the women who remained back home, built guitars anonymously, and kept the Gibson's and America's lights burning.
01 I Wish I Could Shimmy Likie My Sister Kate
06 In the Sweet By and By & Sunny Side
08 When Johnny Comes Marching and Johnny I Hardly Knew You
CD's can be ordered directly from www.laurensheehanmusic.com